Last Thursday, Ben and I went on a little trip to South Korea, just the two of us. We left the kids here with our helper, Arrianne, and her mother. Our closest friends here in Cebu are the Kang family. Their daughter is in Zion's class, we carpool together, and as of last month they are also our neighbors. They also just happen to be from South Korea. Jason, Susan and Rayeon were our tour guides from afar. Jason put together a .pdf telling us what we should go see, and also giving us detailed directions to the airbnb apartment we stayed in. They even had our kids over for pizza while we were gone, then brought over a huge chocolate birthday cake for Clementine's first birthday.
Wait, I hear you asking, you missed your only daughter's first and only first birthday??? 
Yes. Yes we did. Just give me a big ol' "Worst Mom of the Year" award. It won't be my first.
It was an accident, though. Let me explain how it happened. After days of obsessively watching flight prices to Seoul, I found a good price and booked it fast. Just after paying, I realized we would get home at midnight on Clementine's birthday. I was, well, not devastated exactly but very sad. Ben said it was no big deal, though–we would celebrate a few days late. And my dear friend Olivia assured me Clementine would not care. So I got over it. So, back to Seoul…
We left mid-afternoon and flew to Seoul, South Korea. Because all our layovers to Cebu have been in Seoul, we've been to Incheon Int'l Airport 5+ times. But this time we actually got to leave the airport and get a stamp in our passport, which is the main reason we travel anyway. Score.
We took a bus to our airbnb apartment in Yongsan-gu in central Seoul. The cold night air was a bit of a shock as we walked the last couple blocks from the bus stop to the apartment. It was 11:30 pm, so we stopped at a food stand for a very late dinner. He picked out assorted mystery breaded items for us, fried them, gave us soy sauce and we paid 2.50 and went on our way. The grab bag turned out to include a boiled egg, slices of sweet potato, squid tentacle, rice vermicelli wrapped in seaweed, another something fishy and a potsticker. Yum!
When we arrived at our pint-size 14th floor apartment and removed our shoes, we were thrilled to discover heated floors, free wi-fi, and an amazing view of the city.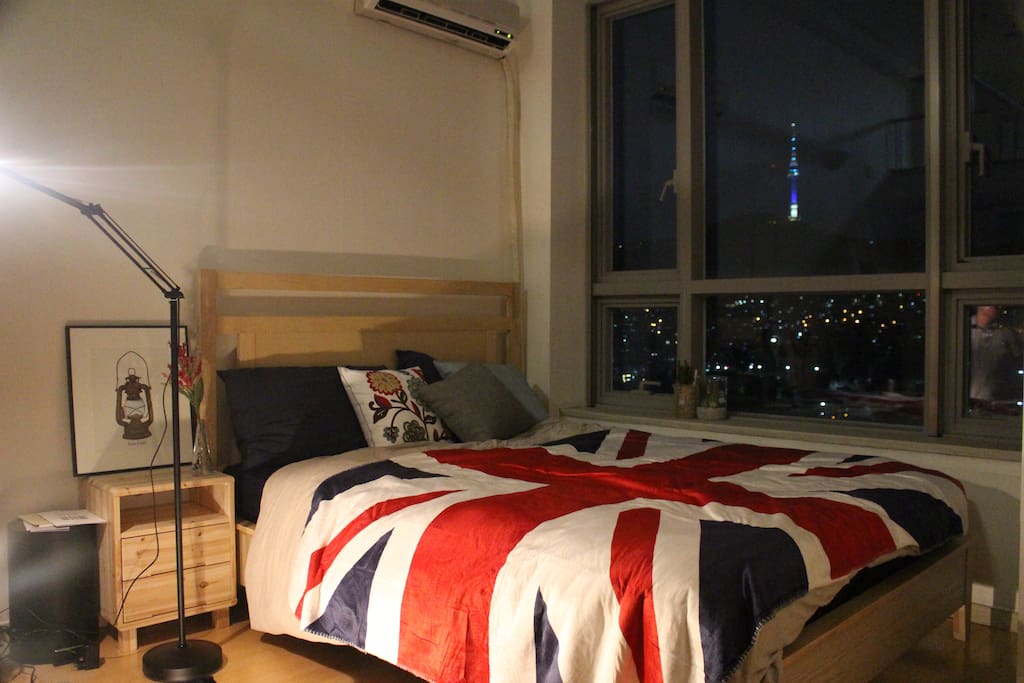 The lightning-fast internet was the only thing that could draw us away from staring out the window. Seoul has the fastest internet in the world. We have suffered through months of spotty and sluggish internet in Cebu, so we were truly excited. Ben, being Ben, had to do a speed test. He then took a screen shot and sent it to my family. Eat your heart out, America!
 The girls didn't care. Or didn't get it. Typical. The guys were duly impressed.
The next morning we took the subway to Gyeongbokgung, the main palace complex for the Joseon dynasty. The weather was sunny and warm (upper fifties!) so we walked around for a long time. The complex also holds the National Folk Museum of Korea, which we also enjoyed.
After the palace, we turned down a deserted alleyway that looked interesting. Then we turned down another alleyway. In front of us was Beautiful Tea Museum. Oddly, I had planned to visit this museum but we had no idea where it was. We stepped inside to enjoy the most expensive cups of tea we will ever enjoy. And no, we didn't regret it.
We did a lot more wandering, mostly poking around the shops in Insa-dong and Ssamziegil. Then we made our way to Bukchon Hanok Village. This beautiful neighborhood is home to hundreds of traditional houses that date back to the 1800s. Although the neighborhood has a number of tea houses and museums, most of the houses are still private residences. One narrow road was crowded with tourists, and nearly every door held a poster asking visitors not to knock on doors and to please be quiet and considerate. This may have been my favorite stop in Seoul.
In the evening we took the Namsam Cable Car up to N Seoul Tower on the peak of Namsam. We meandered from one viewpoint to another for a long time, then had bibimbap and beers at one of the restaurants at the base of the tower, while texting pictures back and forth with Jason and Susan, who were eating pizza with our kids.
Saturday morning we went to the National Museum of Korea, then spent a drizzly afternoon wandering around Gangnam, looking at stores and restaurants we couldn't afford to set foot in. Yes, that Gangnam. This sums up our experience perfectly. An $18 cocktail really put that $9 cup of tea into perspective. But it was worth it, because we got to sit in a toasty restaurant at an open second-story window, listening to the rain and watching people and umbrellas cross the intersection below. I was a little disturbed by all the advertisements for plastic surgery, but I loved that there were fresh bouquets of flowers everywhere I turned.
Also, this sign was hilarious. What would they ever do with a 6′-tall WOMAN???


Sunday, we visited two more palace complexes, including the UNESCO World Heritage site, Changdeokgung Palace. We walked to Namsangol Hanok Village, a village preserved for visitors and filled with historical artifacts. We did some more wandering (actually, ten more miles of wandering) and ended the day at the airport, where we nearly missed our flight back to Cebu.
We arrived home around 2:30 am. I scooped Clementine gently out of her crib to give her a birthday hug. Instantly, she was wide awake and showering us with kisses. But then she wouldn't go back to sleep for another hour. Welcome home, Mom and Dad!